Automation of product delivery, finished goods, commodities, cargoes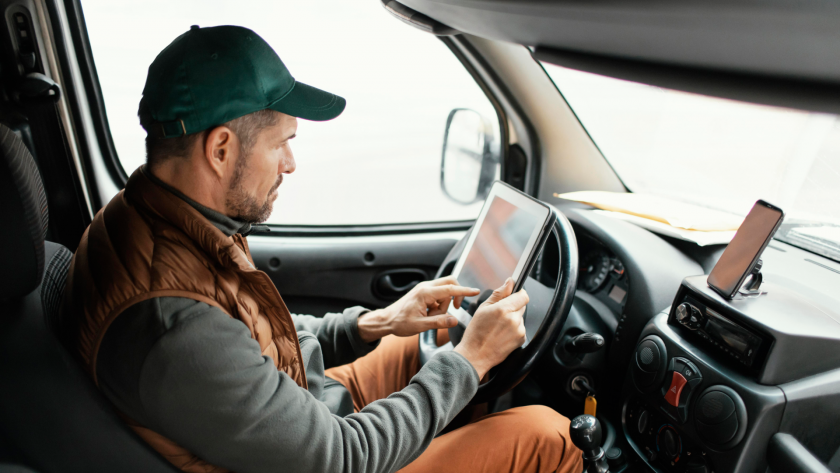 Automation of product delivery has its own characteristics, depending on the type of product or commodity. Automation of delivery of finished goods to stores, kiosks, and other points of sale is primarily aimed at saving costs. Delivery points and timeframes in this type hardly change, but the volume of orders changes daily. It is often necessary to optimize the queue in the warehouse. Therefore, routes must be designed to distribute everything, but at the lowest cost. Savings are a key effect of implementing a product delivery automation system. However, the focus is now increasingly shifting to improving service quality, especially when automating the scheduling of perishable products.
In our experience in such companies, routes are almost always planned by the district before the system is implemented, and working with points is heavily dependent on drivers. Companies cannot fully control routes and are too dependent on the human factor.
When planning to automate such deliveries, many different factors must be taken into account, such as temperature conditions, product proximity and the specifics of the goods, the ability to move on the roads and approach customers, the availability of different (owned or rented) means of transportation, different unloading times at points, return times, etc. All these conditions and constraints are taken into account by ABM Rinkai TMS  – a cloud-based solution for automating the delivery of finished and perishable products. It is also possible to use a mobile application for drivers, which reduces overruns by 10-20% and reduces the impact of the human factor in case of unfamiliarity with the area.
Automating product delivery using refrigerated products as an example
Watch the webinar video to learn about the results of poultry product delivery automation by Epikur, a large poultry producer. We also talk about the importance of Customer Success and how to use reports to improve performance with a TMS.
Automation of parcel delivery service
Automation of delivery service of goods, correspondence, documents, etc. Typically, the services of a courier company include the collection and delivery of goods, parcels, letters, etc. In this case, delivery locations and dates are new every day, unlike distribution deliveries, in which delivery addresses are usually unchanged, and schedule and weight change. Therefore, when automating a delivery service, it is necessary to consider both pickup and delivery within the same routes. An important factor that affects the quality of a company's service is its ability to deliver within the agreed timeframe. Sometimes volume and weight are not considered at all, as time is the limiting factor for routes. In most companies, scheduling is almost always done manually by the district, and there are often significant overruns and violations of delivery deadlines.
ABM Rinkai – automating delivery service in the cloud
ABM Rinkai TMS cloud-based delivery service allows all important factors to be taken into account when planning routes: time windows, pickup and delivery in one route, dynamic planning, not by district. One of the important features of the system is the ability to notify customers of delivery dates. Obviously, the customer is satisfied with the information on delivery times, plus it saves time for the car or courier to reach the point.
Food delivery optimization
Automating the service of delivering food, pizza, sushi, Ossetian pancakes, etc. solves the problem of speed of delivery to the customer in the first place. One of the world's leaders, Domino's Pizza, has made speed its unique selling proposition (USP): "If we don't deliver your pizza within 40 minutes, you get it for free!".
And it optimized all its processes with this in mind: order taking, pizza production, and delivery to the customer. This optimization of processes allowed the company to become the most famous pizza chain in the world and improve business profitability.
Since its IPO in 2004, the profitability of the securities of U.S. company Domino's Pizza has been higher than that of Google (now owned by Alphabet), which went public at about the same time. Analysts have pointed out that CBinsights.
Therefore, when it comes to delivery, the main planning criterion is speed. In most cases, it should not take more than two hours from order acceptance to delivery. Delivery points are new every day. Volume and weight are not considered, as time is the limiting factor for routes (the exception is water delivery). Scheduling, however, is almost always done manually by the district, which is more convenient for the manager planning the routes, since it is quite difficult to do dynamic scheduling without automation. And although food delivery companies often have significant overruns, the savings are often not that important, as the company is primarily concerned with increasing the speed of delivery. It must be admitted that receiving a cold pizza or Peking duck is not very pleasant for the customer. And if the food is not received on time, the hungry customer will choose another company next time.
A program for a food, pizza, sushi, etc. delivery company allows you to schedule deliveries to show up at the exact time and notify customers of the delivery time.
How do you automate your delivery service with ABM Rinkai TMS?
Before you automate your delivery service with ABM Rinkai TMS cloud software, you can participate in our open webinars where we share practical experiences of implementing the solution, or take a chance and contact us for a customized presentation.
Request a demo of ABM Rinkai TMS
Create your itinerary in two clicks!
Get presentation
.
Related news: