Logistics management in the bread industry. Results of TMS implementation at Concern Hlibprom

Reducing logistics costs in the bread industry can be a catalyst for significant business growth. Companies in the bread industry typically have a large fleet of vehicles, which can be challenging to manage efficiently manually. This can lead to issues with timely control, meeting delivery windows, and excessive transportation expenses. Even if a company monitors the performance of its logistics department and implements regular reporting, route reviews, etc., achieving significant results without complete automation is difficult. The example of PrAT Hlibprom demonstrates how the implementation of TMS has led to a qualitatively new level of logistics within the company.
About the Company
PrAT "Hlibprom" is one of the largest companies in the Ukrainian bread market, producing up to 160 tons of various products daily, including bread, bakery goods, confectionery, and dough semi-finished products. The company comprises five processing plants located in the Lviv and Vinnytsia regions.
Collaboration with the country's largest retail chains and a focus on international quality standards drive Hlibprom to implement innovative solutions in their production and logistics processes.
The implementation of TMS marked the beginning of a global transformation and optimization of the product delivery process. In early 2021, PrAT Hlibprom embarked on an active deployment of the ABM Rinkai TMS system in collaboration with the ABM Rinkai TMS team.

Project prerequisites
Manual routing was used. Optimization of existing routes or the creation of new routes took from 7 to 30 working days for a logistics specialist.

There was no possibility to analyze the correctness of delivery time windows to the points of delivery (quantity, quality of deviations in retrospect).

It was not possible to take into account the history of shipments (travel time along the route, time for unloading at the points of delivery) for prompt route adjustments.

Analytics on route profitability were prepared manually after the reporting period, making it impossible to react and make adjustments to the logistics process in a timely manner, resulting in excessive costs.

Manual data entry into the database led to errors by logistics specialists, incorrect placement data for points of delivery, and underdeliveries.

Inability to quickly adapt drivers due to changes in points of delivery, routes, or drivers themselves, resulting in underdeliveries and delays.

Absence of real-time tracking of driver visits to points of delivery, delays, deviations from the route.
Project goals and priorities
As part of a series of meetings with the client, the following business goals were identified:
Obtain a comprehensive automated transportation management system.

Reduce logistics costs by 12% per 1 ton of transported goods.

Consider customer service level requirements.
After accepting and implementing the main recommendations, the following actions will be taken:
Automate the route planning process and minimize the influence of human factors to improve the quality, speed, and accuracy of route planning.

Increase the level of customer service.

Optimize the use of vehicles and reduce transportation costs.

Improve the efficiency of monitoring timely product delivery to customers.

Select an effective route through automatic comparison of planned and actual routes.
Stages
Stage 1
Preparatory stage
Based on the survey results of the heads of the transportation, warehouse, commercial, and IT departments, as well as the company's management, an analysis of all the business processes affecting the implementation of TMS was conducted, and recommendations for their improvement were provided. The implementation goals of TMS were identified, along with the necessary changes to achieve the desired outcomes. A work plan, timelines, responsibilities, performance monitoring, and a list of project risks and specific steps to minimize them were agreed upon.
Stage 2
System configuration
Data exchanges between the accounting system and TMS (orders, vehicle availability, route plans) and between the movement control system and TMS (route execution monitoring) were implemented. Additionally, a separate analytical module was developed to provide quick access to all possible indicators (mileage, expenses, service quality, etc.).
Stage 3
Launch of the first plant
Routes from a previous period were replicated in TMS to configure initial indicators. Staff training was conducted, and support was provided during the initial planning phase. Analysis of the planned versus actual route execution was performed, and indicators were adjusted accordingly.
Stage 4
Scaling TMS to two additional plants (Lviv and Vinnytsia) and cross-docks.
Project Progress
Creation of user accounts and provision of system access to users with different permissions.

Formation of routes for a previous period to accurately configure the system: time characteristics for unloading one kilogram of products, speed characteristics of trade points and drivers (each trade point has individual characteristics that affect unloading speed; each vehicle has additional characteristics for loading and moving speed).

Training of all users, including logisticians/dispatchers, in system operations, plan versus actual analysis, and reporting.

Providing assistance and support in building the initial routes.

Launching approximately 80 vehicles at a plant in Lviv with static route planning, with the ability to transition partially or fully to dynamic route planning.

Consultations on system operations and adjustment of business processes.

Handover of the project to technical support.
ABM Rinkai TMS solution for Hlibprom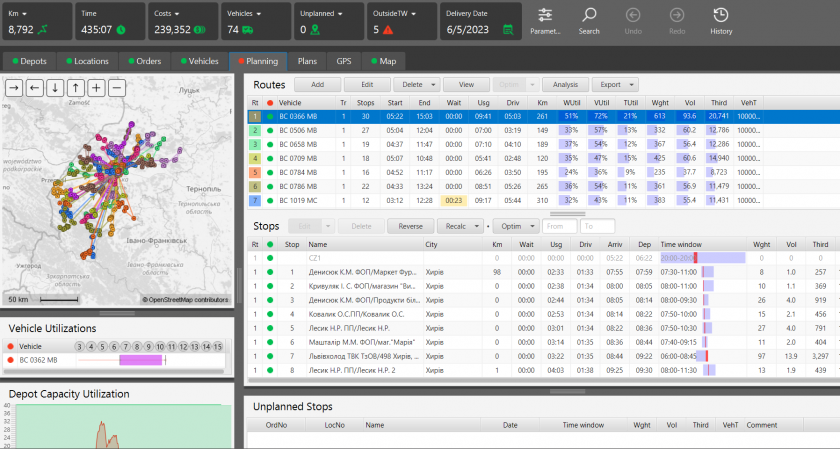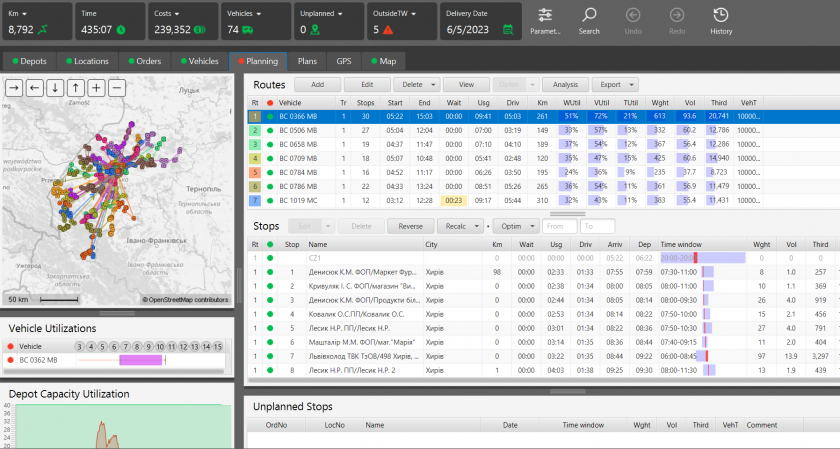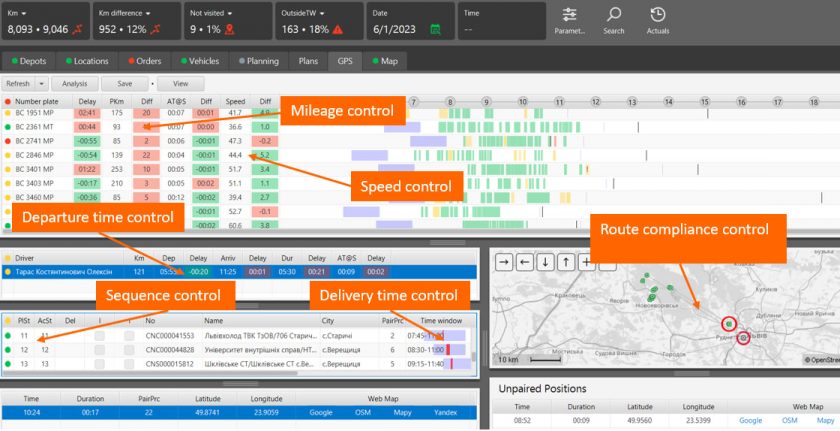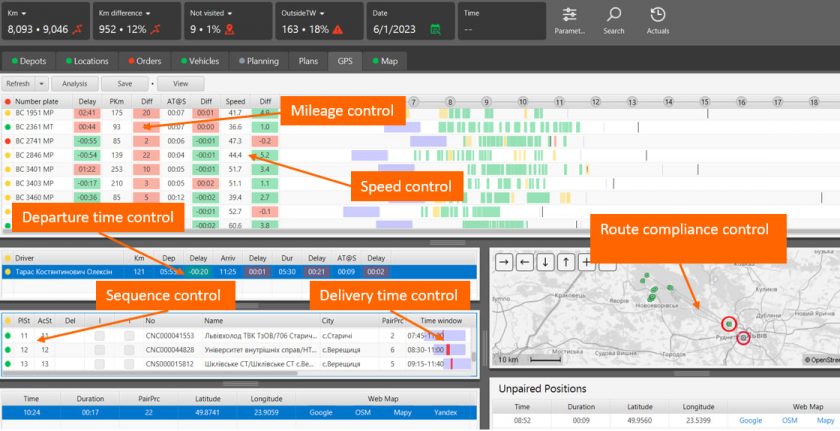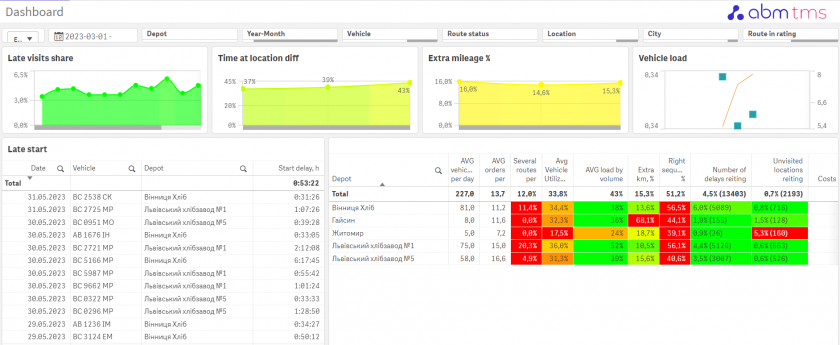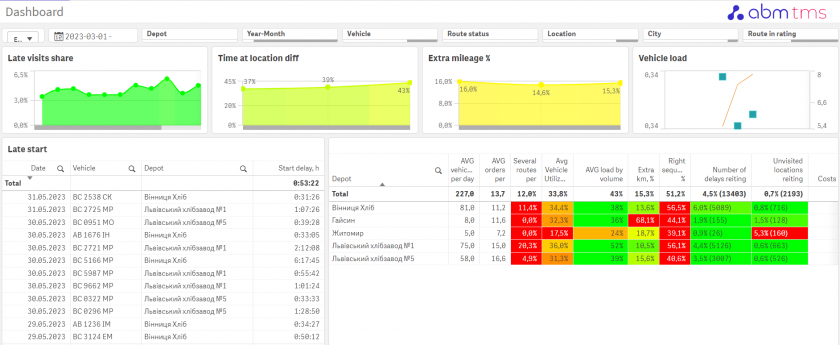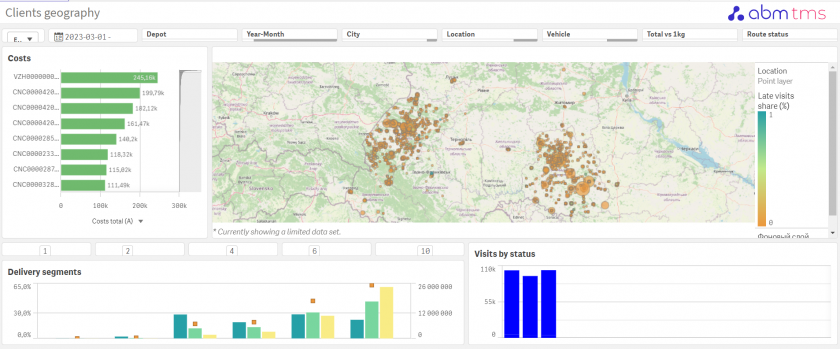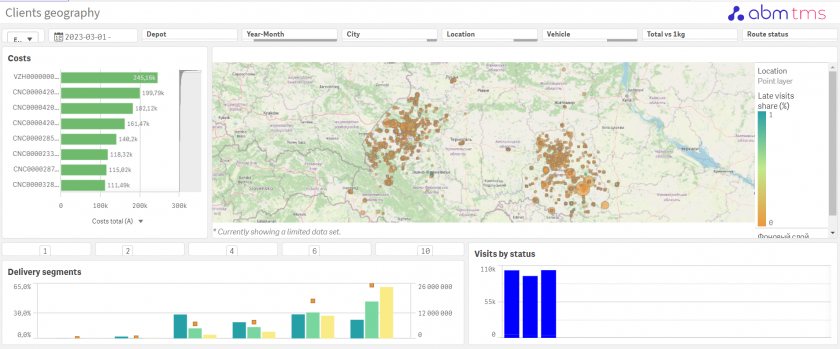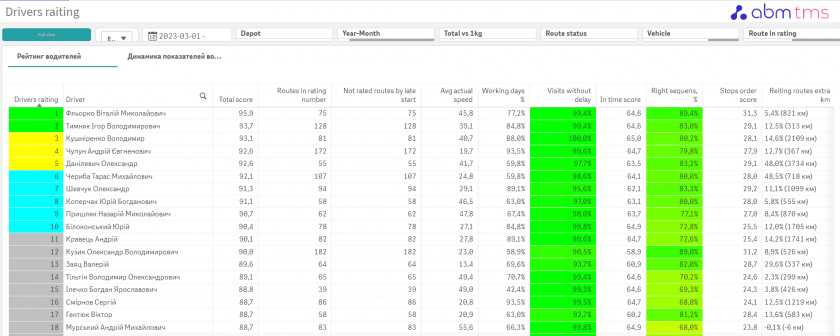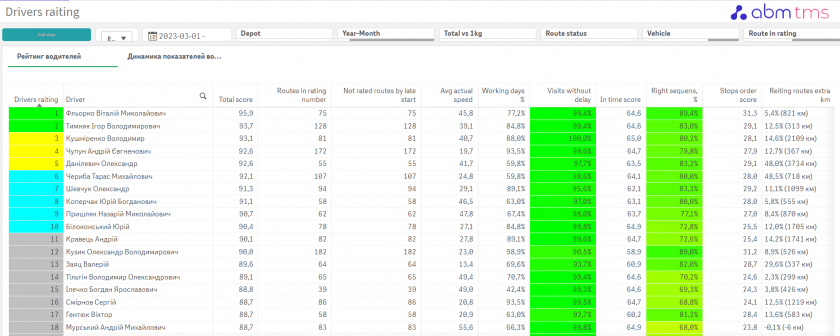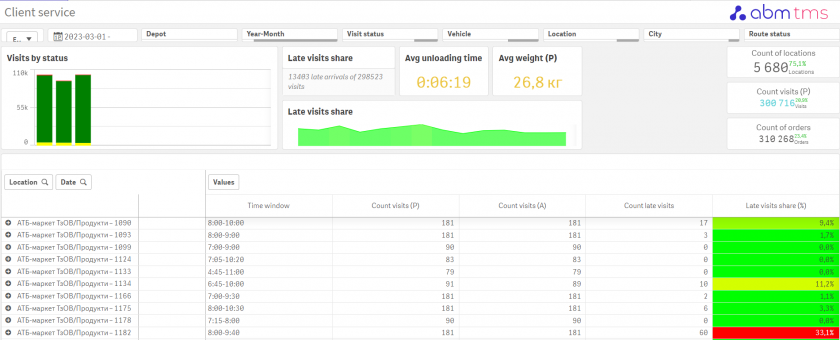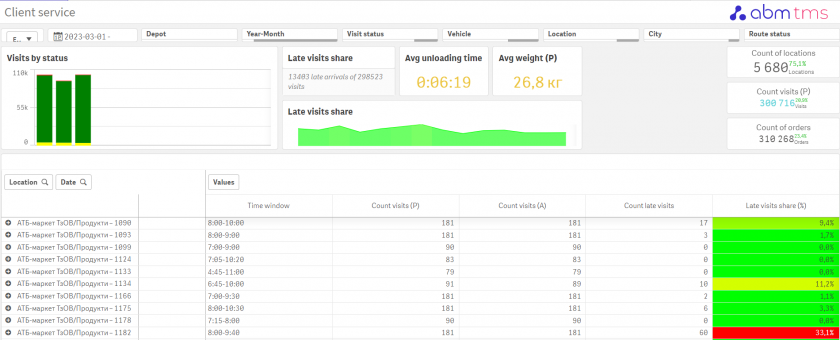 Results of ABM Rinkai TMS Implementation
Hlibprom – the first company in Ukraine's bakery industry to use dynamic delivery route optimization.
Quality indicators
Fully automated the route planning process and minimized the human factor, resulting in improved quality, speed, and accuracy of route planning.

Optimized the utilization of vehicles and significantly reduced transportation costs.

Increased the level of customer service through the implementation of delivery time notifications and the use of waybill data.

Enhanced the efficiency of monitoring on-time product delivery to customers. Now, the logistics team can monitor route execution in terms of time and sequence through a single interface.

Automated the process of monitoring deviations from the route, significantly reducing mileage deviations beyond planned routes.

Created reliable reporting based on GPS-generated actual data, updated daily.
Implemented an analytics module:
Plan versus actual performance for each vehicle, route, and branch.

Control of expenses and profitability of delivery points.

Driver ratings.

Customer geography.

Service quality tracking.

Report on reasons for mileage deviations.
Quantitative indicators
At the pilot plant, comparing July 2021 to February 2023:
Reduced the number of routes per day by 17%.

Decreased the average duration of trips by 10%.

Achieved a 7% fuel cost reduction through mileage reduction.

Reduced carrier expenses by 100% by using an in-house fleet due to better fleet management and more optimal routes.
At the second plant, comparing December 2021 to February 2023:
Reduced the total number of daily routes by 31%.

Decreased the number of employed drivers by 12%.

Decreased overall mileage for the company's own vehicles by 1% and for the carrier by 28%.

Achieved a 38% reduction in carrier expenses.

Reduced fuel costs by 5%.

Decreased the average duration of trips by 20%.
At the third plant, comparing May 2022 to February 2023:
Reduced overall mileage for the carrier by 8%.

Decreased expenses for the hired fleet by 4%.

Decreased the average duration of trips by 11%.
Customer Review
We strive to be the most advanced enterprise in the bakery industry. Of course, to achieve this, it is necessary to optimize logistics processes. With the ABM Rinkai TMS system, we were able to take our product delivery to a whole new level. We noticed the first results immediately after implementation. We managed to reduce delivery costs and improve on-time performance. During the project, we thoroughly reviewed our internal processes, simplifying and eliminating unnecessary steps, which added flexibility for future changes.

After implementing the system, we are 100% convinced that TMS is a must-have for bakery industry enterprises. Since we have a significant fleet of both owned and hired vehicles, logistics optimization greatly reduces our operating costs.

I would like to specifically acknowledge the work of the ABM Rinkai TMS implementation team. The entire project was carried out under the constant supervision of experts. I am confident that this played a crucial role in achieving impressive results.

Roman Suk

Project Manager
.
Related news: