Increase in sales of up to 30%
Outlet visit cost reduction of up to 35%
Twice as much time to present your product

The aim of the system is to increase profitability of each party to a transaction, facilitate and accelerate communication between you and your clients.  Offer additional value for the clients: make an order at any convenient time, get a  bonus program as additional income, have a quick feedback on the order, dispose of the orders via e-mail, have intelligent tips on the product range expanding.

How does ABM MarketPlace work (Self-run model)
Self-run marketplace is a classic evolutionary process when a distributor creates a b2b portal and encourages his customers to interact directly with him, through independent ordering of the necessary products.
There are customers who are willing to work on the updated business model for particular bonuses, but there are those who have to be compelled to work on their business profit increase (for example, outlets that are not profitable to visit).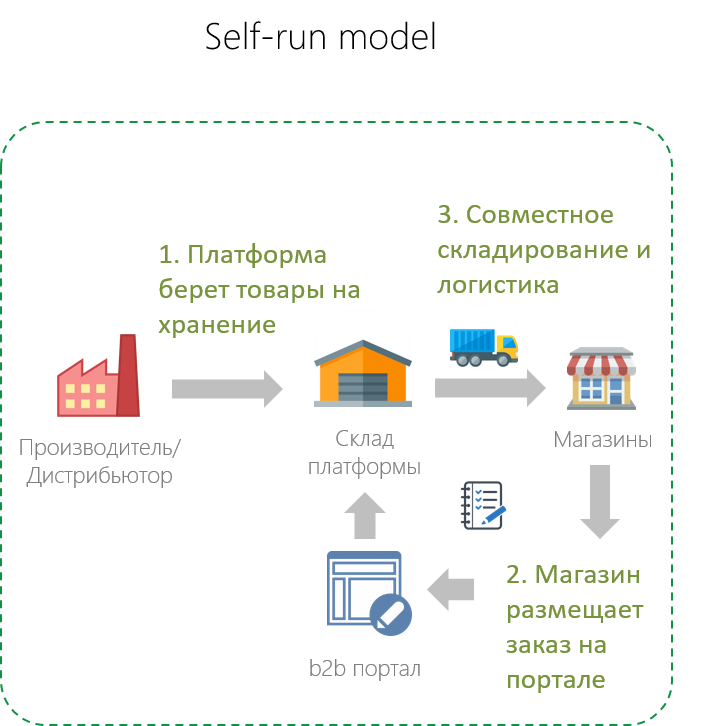 MarketPlace can both integrate with the ABM Digital Distribution system modules and chat-bot DD, and also work as an independent solution.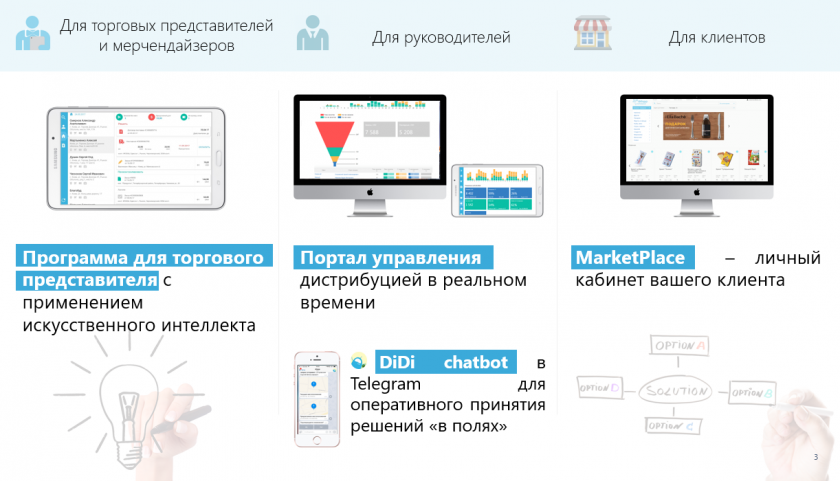 Advantages of MarketPlace
Artificial intelligence

It will help a client to be more competitive in his territory, and you will have a chance to expand the product range.


It's not just a website-catalog

We help to change your business model!


Cloud-based (SaaS)

No purchase, installation and support are needed. Constant development.

For whom and for what?
For Shops and cafes, for your clients

Convenient service for ordering products


For Manufacturers and distributors

A platform for sales and marketing increase


For sellers, bartenders and merchandisers

Additional income

Key value
You don't just get a simple website – we help you to change your business model, since right now you need to draw up a clear plan for survival and well-being in a new distribution ecosystem. Actually, there is less time left than you may think. Don't you believe us? Just talk to our clients who already use MarketPlace and artificial intelligence today.
Our 10-year experience in transformation of the distribution business into digital will help you to create the right project positioning within the company, motivate the sales department to adopt a new work format, connect clients to the portal, set up and use the customer bonus program. Moreover, with this system you will get a full set of documents which will help you to make your business more efficient from the very first day.
MarketPlace functionality
Order template and flypage:
A page with description and characteristics of the goods
Creating an order template from the basket
Choosing an order template in the basket
Magic order
Forget about comparing item numbers and stock lists.
All you need is:
Download the ready Excel template for the order
Download your random template
Look through and adjust the recognition result
Send the order to the basket
Offer Designer
Creating special offer conditions in the Admin module
Checking conditions for the fulfillment of offers before adding the goods to the basket
Debts
Displaying the amount of waybills debt in "My Waybill" section
Displaying the total debt amount in the outlet
Orders of neighbors
Label "Order of neighbors" is generated in product text box by artificial intelligence
Set of documents
Customer portal
Script – connection to the customer portal.
Commercial offer
Additional agreement to the delivery contract
Memo template for sales representatives motivation
Memo template to motivate supervisors
Motivation program for supervisors
Outlet visit cost reduction of up to 35%
Increase in sales of up to 30% in comparison with the classical work model.
The efficiency of the representative increases, while the cost reduces by 35%. That is how real innovations work!
Twice as much time for a live presentation of your product, while reducing the overall visit duration.
Digitalization of the docflow with a client, reducing the time for routine processes in the outlet, a client performs the majority of the operations on his own.
Additional value for your Clients