Improved inventory turnover by 20% for network IZHTREYDING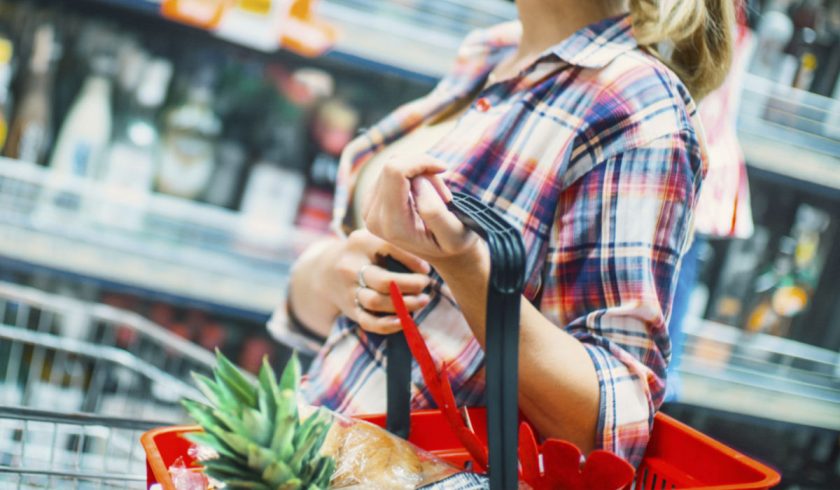 Case Study of "Implementation ABM Inventory auto-order and stock management system in Retail Network IZHTREYDING.
Trading network "IZHTREYDING" is a rapidly growing food retail company. leader of retail trade in Udmurt Republic, with stores in Izhevsk, Votkinsk, Sarapul, Mozhga, Glazov, Neftekamsk, Nizhnekamsk, Yanaul, Chaikovskiy. The total number of stores amounts to 90. The network comprises of 3 retail chains: "Izhtrading", "3 bananas", "Almond", "Extra". Total number of SKUs amounts to 50 000 SKUs (fresh products, delicacies, food and non-food items, etc)
Trading network "IZHTREYDING" offers consumers a wide choice of foodstuffs, with an emphasis on fresh products and delicacies, as well as non-food items. To date, the company's assortment range includes more than 50 000 brand names. "Izhtrading" develops its own production of dairy, meat and other products and consumer goods and is considered to be one of the strongest brands in Udmurtia and beyond.
Wide variety of products and a potential to diversify their range according to demand fluctuations in different regions are major competitive advantages of the company. "Izhtrading" strives to provide customers with the widest choice of merchandise, including its own pastry and deli lines as well as constantly updated seasonal food and non-food product mix. Further plans of "Izhtrading" comprise customer feedback loop improvement for as well as intensive development of own production lines.

SITUATION PRIOR TO SYSTEM INTEGRATION
All of the orders were being placed by local managers which was creating a number of problems.
TOP management decided to adopt a Centralized Inventory Management system to enable efficient operation and further development of the network
Major issues the company was dealing with prior to Project Implementation:
High percentage of mistakes due to ''human factor''
Each manager was operating and ordering large quantities of SKUs, and hence choosing consequently to place orders less frequently and in bigger volumes
Correct data about product display was missing, there were more SKUs in a product mix than space in the shops, therefore managers were choosing independently which inventories to display
Data on Minimum Order Quantities, Undivided Supply Quantities, weight, volume was not updated on constant basis, which led to mistakes in orders
The product assortment format was not unified, hence managers in each outlet placed orders for products they deemed necessary
Numerous factors, distorting stock volumes existed across stores (delays with receiving inventory, delays with inventory returns, thefts, losses etc);
Human tendency towards reassurance led to creation of orders exceeding actual demand and, consequently, to inventories being in excess funds getting "frozen"
High total labor costs, and, consequently high expenses on employee compensation
Moreover—local managers typically solve local problems, do not monitor situation across the entire chain and are not guided by global goals of the company in their decision-making processes.
Both local and top management had no convenient instrument to evaluate volumes and reasons of overstocks and out-of-stocks.
All of the above was negatively affecting the quality of inventory management processes and, eventually, the efficiency of the entire network. That is why "Izhtrading's" TOP management considered optimization and automation of Inventory management system to be a critical issue.
REASONS FOR CHOOSING ABM CLOUD
"Izhtrading" was considering 2 types of Inventory management systems: "push" (or forecast-based) and "pull" (or real-time demand-based). Due to complexity and Inaccuracy of forecasts, decision was made towards "pull" system, i.e. ABM Cloud solution for inventory management.
The solution is Theory of Constraints-based with a Dynamic Buffer Management mechanism at its core, and thus helps to ensure continuous product on-shelf availability while maintaining minimal stock levels in the system.
Inventory management based on actual consumption underpin solution's methodology. Such approach is significantly more effective than forecast-based inventory management, which has a number of disadvantages (inaccuracy of forecasts, necessity of keeping safety stock to mitigate fluctuations, etc).
Further arguments which led to a decision to adopt ABM Cloud solution were:
SaaS model
Comprehensive training of system users along all major stages of the project (both on the system use and management methodology). Upon project implementation client receives technical and methodological consultations and support in real time mode.
Streamlined integration technology allows to define system deployment stages, existing business processes, and to develop a plan for their alteration if necessary. ABM Inventory itself does not require neither additional coding nor lengthy complicated adjustments.
Visualization of "problem zones" and current state of affairs enables quick assessment of current situation and taking necessary actions subsequently. Detailed BI Analytics module provides managers with a tool for fast and improved management of product assortment and stocks. For TOP management – it is an instrument to control a situation and to stay up to date with current events.
Taking into consideration all of the above and after detailed analysis of other systems with similar functionality as ABM Inventory, "Izhtrading" chose ABM Cloud for their stock management automation.
PROJECT DESCRIPTION
Prior to the project start date, the following objectives were outlined:
Centralization of order placement
Optimization of product assortment, decrease of excess inventories
Improvement of turnover indicators
Staff Optimization
Within the frames of the project, a function of order creation and submission to suppliers shifted from store managers to purchase department, which had been previously managing purchases solely to Distribution Centre. Information across the entire product mix was updated.
Integration process was accompanied by extensive user training:
Seminar on TOC based stock management methodology;
Training on using the software, on its algorithms and customizations;
Software analytics module training
Prior to project implementation, 2 kind of product mix classifications were used in the retail network, a so called "stringent" and "loose" categories. In fact, a correct and uniform product mix was missing across entire stock management processes, moreover, a lack of centralized inventory management system gave an opportunity to the stores to override order handling rules.
That is exactly why one of the project goals was to optimize assortment mix. In line with ABM Inventory implementation "Izhtrading" opted out of such differentiation and updated information across all the products, which, together with procurement system centralization, enabled each store to order a complete and appropriate product mix and increase sales consequently.
During the first stage of inclusion of products in the system, initial buffers (optimal stock levels in every storage location) for all the SKUs were calculated. After a couple of replenishment periods, the system adjusted buffer levels in accordance with actual consumption. Dynamic Buffer Management algorithm functions in such a way.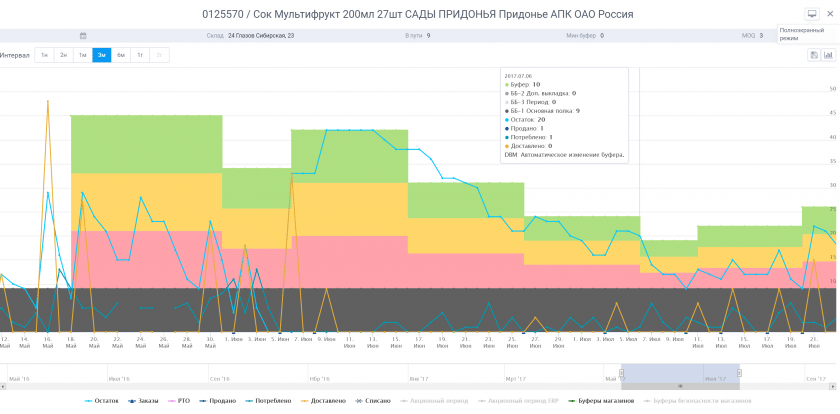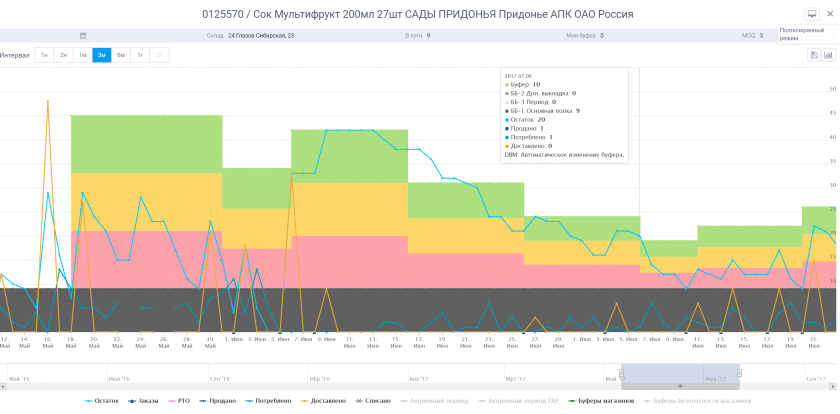 During project implementation, all major product categories were included in the system. At the present moment ABM Inventory is managing 690 000 buffers. The system forms and submits 1500 – 2000 orders daily to 162 suppliers based on agreed supply schedules.
For user convenience, a dashboard layout is set for system's home screen (Picture 2), where daily tasks of a manager, key indicators for monitoring stocks and taking managerial decisions are being displayed. Indicators across TOPmovers, New and Promo items highlighting areas which require heightened attention of managers are located in an upper right side of the screen. Information is updated in real time mode which allows managers to monitor stocks across these categories.
Color indication emphasizes ''problem zones'':


Such KPIs as percentage of overstocks, lost sales and turnover period are calculated and updated daily.
Inventory management system includes a powerful reporting module consisting of various analytic reports which can be reconstructed in real-time according to user preference. Moreover, a number of reports are generated by the system and sent via e-mail to responsible managers.
Analytics on excess inventories and lost sales dynamics can be monitored across product categories and stores simultaneously (Picture 3), or apply whichever necessary parametrical customization. Red color indication signifies increase in excess inventories during last week over the week before, green denotes a decrease. Representation may be drilled down up to each SKU at every storage location level.
Weekly Stock, turnover, over and out of stocks dynamics  for 52 weeks enables monitoring seasonal changes :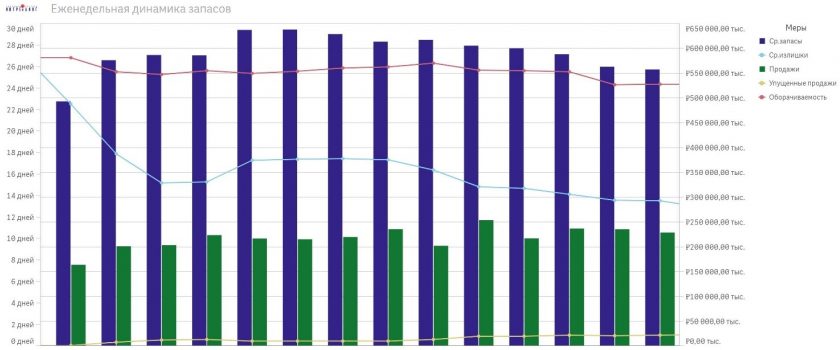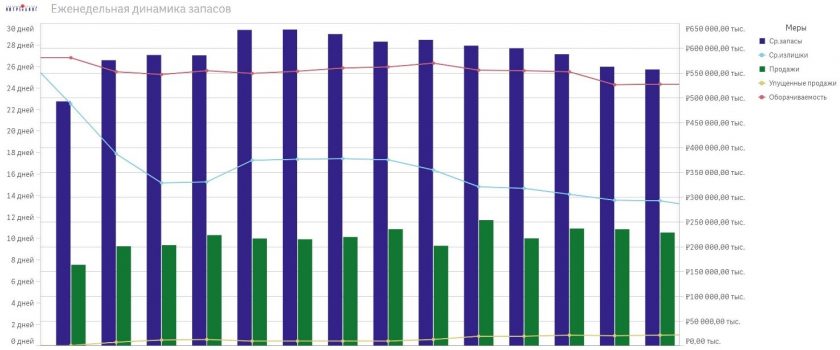 System monitors the amount of funds ''frozen'' in product display, overstocks and in ''sales stock level'' zones. Currently, 20 % of total products are in a ''safety buffer'' zone (or product display) which is a good indicator of product management.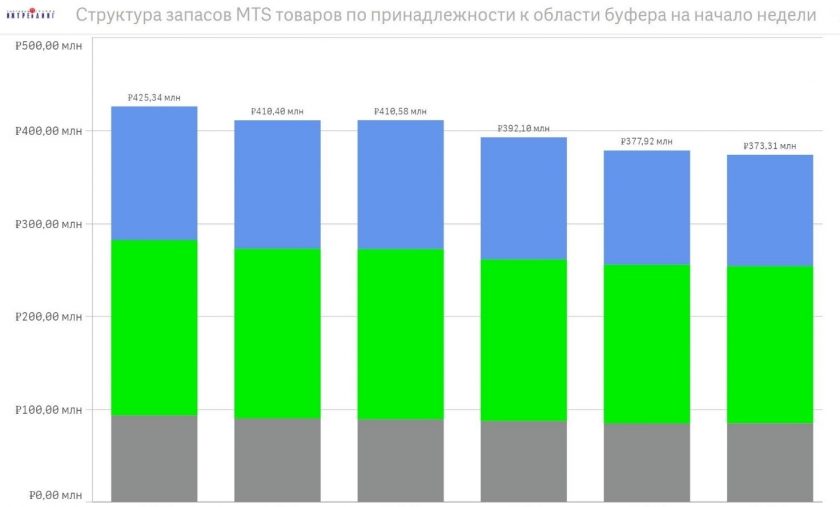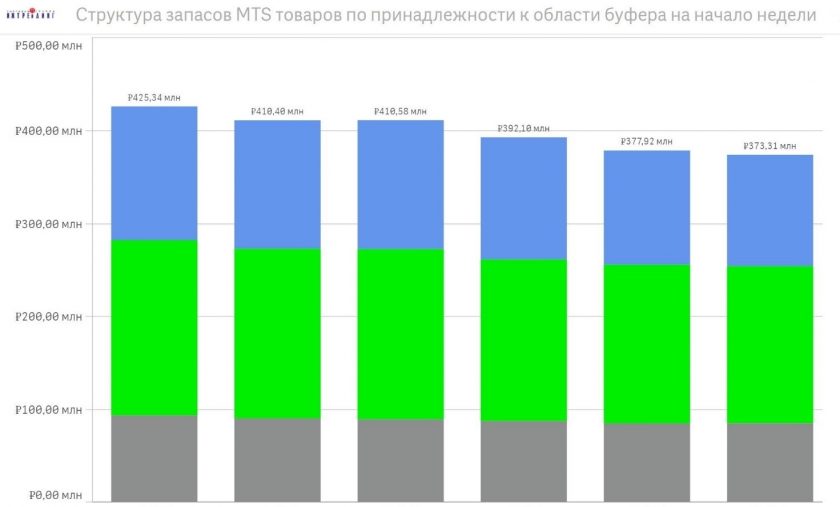 Another useful report reflects disbalance in distribution system: excess stocks for certain products in one storage location (warehouse or shop) may exist simultaneously with out-of-stocks in other storage locations for the same product group. Based on these analytics  manager can choose to submit orders to external suppliers or relocate stocks internally.
A different report is used for SKU removal from a product grid. It contains information across products marked as "OUT-movers" in the system (an OUT-mover mark signalizes, that an. automatic removal procedure has been initiated for an SKU). This procedure liberates manager from concerns related to monitoring stock levels and respective report emphasizes problem zones.
One more crucial analytics report actively used by "Izhtrading" reflects information on reliability across suppliers, order fulfilment accuracy (time-wise and product-wise) in particular. The report provides estimation of supplier's reliability and examination of product shortfall. Evaluation period can be set for 7, 30, 45, 60 days.
PROJECT IMPLEMENTATION RESULTS
Introduction of centralized stock management system, which currently operates 75% of product assortment
20 % (6 days) improvement of Turnover period
Stock optimization. 10% decrease of excess inventories
7 people are responsible for order placement from Central Office (earlier—each store had a local manager placing orders)
Transparency in order placement processes, inclusive of promo items, opportunity of ''problematic'' SKU detection and further removal from the product grid
Minimization of typical order placement mistakes (out of schedule orders, missing/ lost orders, mistakes with order volumes, etc). Currently orders are placed strictly within the schedules indicated in accounting system of "Izhtrading" and for specific volumes of merchandise
We would like to thank project teams for their professionalism and productivity in achieving respective objectives as well as extend a special "Thank you" to TOP management of "Izhtrading" for actively taking part in system integration processes as well as for their openness to change and revise inventory management principles.
We wish "Izhtrading" new opportunities for business development and expansion as well as successful projects and constant improvement of performance indicators.
Do you want to get the same effects for your company?
Do you want to get the same effects for your company?
Request a free demo!