| | |
| --- | --- |
| Date | 22 March 2018 |
| Time | 10:00 UTC+3 |
| Cost | 90000 RUB |
Registration
About the webinar
Demand Driven Planner Program – Official preparatory education for the Demand Driven Planner Professional (DDPP)™ exam.
The Demand Driven Planner (DDP)™ Program is designed for planning, purchasing and supply chain personnel responsible for implementing and maintaining a DDMRP implementation.  Designed by the leading authorities on DDMRP at the Demand Driven Institute, the Demand Driven Planner program is comprised of 13 modules of in-depth DDMRP education. The DDP Program is THE official preparatory course for the Demand Driven Planner Professional (DDPP)™ certification exam.
Note: Each participant of the DDP will receive a certificate of completion from the Demand Driven Institute.
Official DDPP Certificate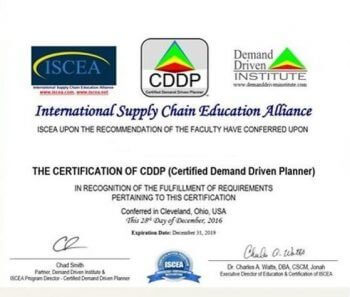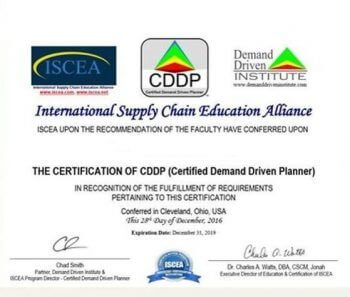 DDP course content
Module 1: Planning in the Modern World
The MRP Revolution
Evidence of a Problem
The New Normal
Module 2: The Importance of Flow
Plossl's First Law
Demonstrate Flow's importance in industry
Plossl's Law Caveat
The Bullwhip Effect
Module 3: Unlocking a Solution – Decoupling 
Module 4: Becoming Demand Driven
"MRP versus Lean" Conflict
What "Demand Driven" really means
Demand Driven Operating Model
Demand Driven MRP
Module 5: Strategic Inventory Positioning
Six Positioning Factor
Decoupled Lead time
Matrix Bill of Material
Module 6: Distribution Network Positioning
Unique Distribution Positioning Factors
Compare and contrast demand driven to push and promote
Positioning across a supply chain
Module 7: Buffer Profiles and Levels
Inventory – Asset or Liability
Buffer Profiles
Buffer Zones
Calculating Buffer Levels
Module 8: Dynamic Buffer Adjustments
Recalculated Adjustments
Planned Adjustments
Manual Adjustments
Factors for Planning Adjustment Factors
Module 9: Demand Driven Planning
Part Planning Designations
DDMRP Planning Process
Supply Order Generation for Stocked Items
DDDRP Supply Order Generation Considerations
Supply Generation for Non-Stocked Items
Decoupled Explosion
Prioritized Share
Module 10: Highly Visible and Collaborative Execution
Challenging Priority by Due Date
Buffer Status Alerts
Synchronization Alerts
Execution Collaboration
Module 11: DDMRP and the Operational Environment
DDMRP Strategic Buffer Criteria
DDMRP and Safety Stock
DDMRP and Order Point
DDMRP and Scheduling
DDMRP and WIP Priority Management
Compare/contrast MRP, Lean and DDMRP
Module 12: Demand Driven Sales and Operations Planning
DDS&OP
Analytics for Master Settings changes and model improvement
DDS&OP protection for critical strategic impacts
Module 13: Program Summary
Program Summary
Expected Benefits of DDMRP
Get Started with DDMRP
The Demand Driven Planner Program presented  by Carol Ptak and Sviatoslav Oliynyk is to be given over two days as follows:
22 – 23 March, 2018, 2 days for 8 hours, Moscow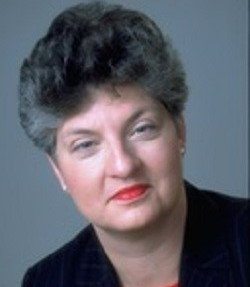 Carol Ptak
Carol Ptak is currently a partner with the Demand Driven Institute (www.demanddriveninstitute.com) and was most recently at Pacific Lutheran University as Visiting Professor and Distinguished Executive in Residence. Previously, she was vice president and global industry executive for manufacturing and distribution industries at PeopleSoft where she developed the concept of demand driven manufacturing (DDM). Ms. Ptak spent four years at IBM Corporation culminating in the position of global SMB segment executive.
A leading authority in the use of ERP and Supply Chain tools to drive improved bottom line performance, Ms. Ptak's expertise is well grounded in four decades of practical experience as a successful practitioner, consultant and educator in manufacturing operations. Her pragmatic approach to complex issues and dynamic presentation style has her in high demand worldwide on the subject of how to leverage these tools and achieve sustainable success.
She holds an MBA from Rochester Institute of Technology and completed the EMPO program at Stanford University. Ms. Ptak is a frequent educator at the university level and presents at many key technical conferences around the world including South Africa, France, Israel, Australia, Ireland, the Netherlands and fourteen APICS International conferences. She is the author of numerous articles and the books Orlicky's Material Requirements Planning 3/E with Chad Smith, MRP and Beyond, ERP, Tools, Techniques and Applications for Integrating the Supply Chain, Theory H.O.W. with Harold Cavallaro, Necessary but not Sufficient with Dr. Eli Goldratt and Eli Schragenheim. Together with Dean Gilliam she updated Quantum Leap, originally written by John Constanza. Ms. Ptak has lent her name to the internationally coveted Ptak Prize for Supply Chain Excellence that is awarded annually by ISCEA (International Supply Chain Education Alliance.)
Ms. Ptak is certified through APICS at the fellow level (CFPIM) and was certified in Integrated Resource Management (CIRM) with the first group internationally. Ms. Ptak was the President and CEO of APICS, The Educational Society for Resource Management for the year 2000. Prior to her election as APICS President, she served on the Society in a variety of positions.
LinkedIn Page: https://www.linkedin.com/in/demanddrivencarol
Follow Carol Ptak on Twitter: @itsallaboutflow
Amazon Author Page: http://www.amazon.com/Carol-A.-Ptak/e/B001K8FI44/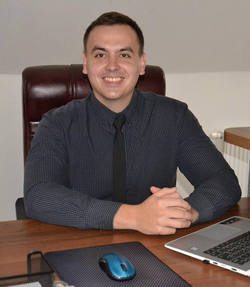 Sviatoslav Oliynyk 
Co-founder of Representative office of Demand Driven Institute in CIS region, business trainer, stock management consultant at ABM Cloud.
Business process re-engineering project manager / Lean/ 6 Sigma/ ToC
Certified expert in Innovative Solutions for Supply Chain optimization, specialized in DDMRP methodology implementation
Author of various case studies and business media publications, event speaker, founder and coordinator of business training clubs, practicing expert in corporate culture development, coaching, team building
The webinar is for:
Supply chain and operations professionals, continuous improvement specialists, supply chain transformation managers, SC financial managers, consultants, educators, students, anyone who is ready to fundamentally challenge the formal planning practices based on forecast driven MRP and understand how to achieve breakthrough performance improvement.
Register today!
78 000 RUB – early bird special for registrations until January 31, 2018
Details
Date

22 March 2018 - 23 May 2018

Time

10:00 - 19:00 UTC+3
Организатор
Company

ABM Cloud

Email

sales@abmcloud.com

Сайт

https://abmcloud.com/