How to assess brand loyalty and what features are used to assess customer loyalty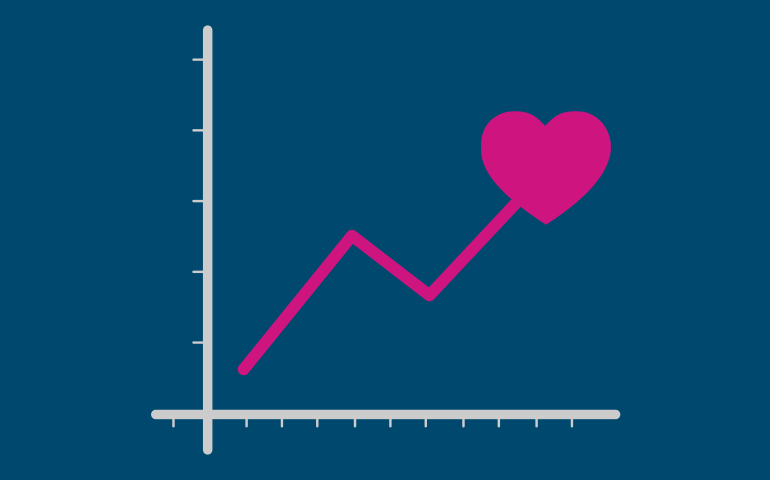 We explain how to assess customer loyalty and improve consumer commitment to your company and what the basic features of customer loyalty assessment are.
In recent times, marketers are more focused on retaining current customers. Attracting a new customer costs five times more expensive than keeping an existing one. Many companies claim openly that attraction of new customers is loss-making. They believe that the secret to growing sales implies customer loyalty improvement and customer re-sales.
The ExactTarget survey 2014 confirms that "the main problem of the company life cycle is not the attraction of new customers but the involvement of existing ones and getting permanent revenue".
Customer loyalty is the positive attitude of the customer towards a brand that is achieved in the result of a complex of marketing actions.
Customer loyalty assessment is a compulsory analysis point of customer satisfaction.
So where to start? Customer loyalty assessment is not an easy task. We offer a model that can be adopted by any organization for better understanding of the loyalty.
Key indicators of customer loyalty assessment
Customer loyalty can be assessed by using five key indicators:
registration
frequency
conversion
protection
rewards
Registration.
It is important to personalize the customer experience – with encouraging visitors to register you can collect customer behavioral and demographic data as well as information about the interaction with the brand.
Cloud-based omnichannel ABM Loyalty program automatically collects data about your customers and purchases from various sources: questionnaires, website, mobile app etc., into a unified database. Together with the purchasing features, the program defines your target audience and groups customers according to similar features.
Frequency
Frequency shows customers behavior. How often do they return to your brand? How often do they interact with your website, store, and brand? We want the visitors and (hopefully in future) customers come back to the brand frequently. It encourages more engagement, more purchases and ultimately leads to the fact that they are more loyal to your brand. There are many ways to increase the customer visits frequency, for example:
Give reward for frequent visits.
Use a game mechanics.
Update the content frequently but keep the value of your brand.
Use e-mailing to stimulate visits to your stores (inform about offers, discounts, bonuses).
Launch advertising campaigns.
Conversion
Actions taken by customers are valuable for the brand. Loyalties fall into two different types of conversions: those that are based on revenue and those based on liabilities. Different loyalty campaigns have different goals. Sometimes you need to repeat the purchase or transaction, and sometimes you need to cause interaction (e.g. visiting stores, taking part in the offers/contest, etc.). All these actions are important for different reasons, and tracking them is a key part to determine how the consumer is connected with your brand.
Check if all the methods are implemented in your business:
Configure toolbars CRO (Conversion Rate Optimization).
Check your calls to action Frequently.
Invest in an effective and intuitive design (website, outlets and all things associated with your brand).
Determine the cost of conversions and their functions (for example, watching your videos can increase brand awareness, and giving offers can boost sales of a particular product).
Use different types of conversion in your loyalty programs.
Protection
"Brand defenders" are those customers who openly recommend the brand, protect it and mention it among themselves (e.g., in social networks).
There are several ways how to increase the protection level of clients' interests:
Make sure that your defenders have been rewarded (incentive bonuses). For example, breweries often make personalized mugs for their most loyal customers; retailers of cosmetics create make-up bags with their logo.
Start a referral program.
Reward both the referrer and referrals.
Be personally involved with those customers who protect your brand.
Launch a campaign of loyalty for the brand defenders.
Rewards
Reward is an opportunity at any time to obtain something extra from the brand and that goes beyond the expected. ABM Loyalty Platform allows organizing an offer program, the processing of rewards, points, liters, bonuses, cups of coffee and so it maintains a full record of all members' transactions.
How to encourage participation in the rewards system:
Show your customers the obvious advantages of rewards (unique offers).
Make rewards relevant and specific (create images of your customers).
Make the reward simple and clear for any customer at any outlet and from any device.
Explain each step of the reward receiving clearly.
Update your rewards frequently to retain your customers.
This loyalty assessment scheme is a good starting point for the analytical approach development of loyalty assessment.
How does it all come together? The answer is – with using cohort analysis. It means the division of audience into groups based on their similarities, behaviors, or other features, as well as a marketing activities adaptation. A Cohort analysis allows you to make assessment including each customer, and spot the real opportunities of customer loyalty improvement.Loyalty program like ABM Loyalty is a system which carries out the segmentation of the target audience.
Customer loyalty increases when you know the needs of each segment.
If you still are not sure where to start – e-mail us. We will contact you, consult, collect data, recommend and configure individual way of ABM Loyalty usage in your business.
We also invite you to our next webinar, dedicated to the loyalty rewards program organization and ABM Loyalty product.
Based on Salesforce materials

Related news: